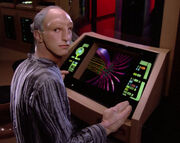 Star Trek's, The Traveler
The Traveler in 2364
I have always been a Star Trek fan. As a kid, I watched the original series, which began in 1966. The original shows remain my favorite, hokey as I now think they are. I adjusted as the series evolved to The Next Generation, Deep Space Nine, 12 movies, and most recently movie number 13, Into the Darkness. Even kids that did not grow up trekkies will enjoy the antics of the young crew. It was terrific fun!
Screenwriter and visionary Gene Rodenberry wove into plots and characters, clues about the evolution of consciousness.
One of the characters was "The Traveler." The Traveler, whose real name was unpronounceable by Humans, was a mysterious humanoid who had the ability to alter space, time and warp fields with the power of his mind. He could phase out of time and dimension and move between planets and star ships. These abilities were based on his ability to focus the energy of thoughts and in his advanced understanding of the nature of reality. Sounds quantum to me.
According to The Traveler, thought was the basis of all reality. Read more about The Traveler at this link:
http://en.memory-alpha.org/wiki/The_Traveler
In one of the episodes, the traveler, the crew and the ship were at the edge of the universe, their demise imminent. In a desperate attempt to save the ship and crew, the captain asked the crew to focus on their duty and apply all their thoughts towards the well being of the traveler. Each crew member did their duty while they focused on the traveler, who after considerable effort, got them back to safety.
The episode reminds me of where we are today. Perhaps we are facing imminent demise, or perhaps we have an opportunity to go where no one has gone before. We are unsure about what may occur. Either way many of us are aware a shift is happening. We may be wondering how to steer the ship. I prefer to steer not towards the final frontier, but towards ever-expanding possibility. An inquisitive mind and a researcher's curiosity leads me to contemplate the faculties of consciousness and lifestyle to adopt and adapt in order to stay on course.
Here are two.
#1 Focus on duty.
Duty means to methodically focus on the act of survival, as we apply a focus on our unique gifts and talents. Duty necessitates each of us cultivate commitment and discipline to what these gifts are and to live our unique beingness. As we chop wood and carry water we contribute to society. We must own and utilize our unique gifts.
However, we seem unwilling to own our unique gifts and talent. We denigrate ourselves and will do anything not to stand out. We give lip service to "finding ourselves" and living our "Truth," whatever that means. Why do we stop ourselves from truly acknowledging, accepting, and integrating our unique selves? We do so because we are afraid of other's jealousy or we don't try because we think we have to be the best. We must be perfect. This leads to acting from inadequacy and insecurity, instead of acting from strength of self.
#2 Hold a focus for well being
f
or human, for humanness, for humanity and for ourselves as humans as dearly loved beings.
This is difficult for us as we see ourselves as being separate from each other. We act from separation and we have issues with being human. We do our best to get out of rather than to embrace the body, its splendor and its idiosyncrasies. We must embrace the gorgeous beings we are if we are to discontinue our separating behavior and wake up to recognize heaven is on earth. We are magnificent, warts and all. To believe otherwise is our narcissistic attempt to remain small and deflect responsibility.
This is not to condone the atrocities of human propagation, but rather to support a change in our conscious perspective.
The Star Trek crew members accepted their respective gifts, and responsibly applied them towards their duty. They collectively focused upon the Traveler's well-being. They made it home.
Will we?
Play with Matrices #42, #7, #11, #17, #27, #29, #50
I thank one of my enlightened colleagues for giving me the idea for this post.